National Bundt Day

is nearly upon us and as a native

Minnesota

n (by way of a pristine maternity ward in a pretty hilltop hospital in

Darmstadt, Germany

) I intend to celebrate in high style. (Didntcha know? The Bundt pan was invented in MN, as was the

Pearson's Nut Roll

and the

Jucy Lucy

.)

For the occasion, I'm thinking I'll follow-up on that hazelnut cake with the Real McCoy: hickory nut cake, baked in a Bundt pan. And I've learned my lesson, so I'm planning ahead and ordering the nuts online.

All well and good, but in my search for hickory nuts that wouldn't come in five-pound bulk bags that I'd never know what to do with, I discovered an 87-year-old article in the New York Times that mocks my plight.

"It's nutting time! And the nuts are not far from the city," begins the article, which promises that with an adventurous spirit, a bit of gumption, and the use of a motor car, New Yorkers can experience the life-affirming escapade of collecting wild hickory nuts not far from their own front stoop.

In the "Highlands" district, between Bear Mountain and West Point, lay "the best nutting grounds," including hickory trees and hazelnut brushes, fertile in late October and ripe for "clubbing" (that is, knocking the nuts free – after one shimmies up the trunk). It's no easy feat, warns our anonymous guide: "like all good things, hickory nuts are not easy to get, even when they are plentiful."


The hickory may present its challenges, but at least its population was still bountiful. The chestnut tree was already victim of the "lumbermen" who "cut over the whole region two or three times." The image of "dead chestnuts trees" is unspeakably sad: "their branches, now bare, once held a bountiful brown harvest at this time of year."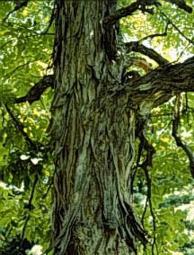 Today I can find very few stories of people harvesting the fruit of the Shagbark hickory tree, a species indigenous to almost all of the area that is now known as the United States. Those who do seem to be in Wisconsin or thereabouts, none in NY. It would seem the onward march of the highways and the lumbermen have made their mark, crushing forevermore the nutty dreams of larking foragers from the big city.

And it's no shock to learn that even if all those old-growth trees laden with sweet, never-bitter nutmeats were still standing, climate change would be making the would-be nutter a little, well, nuts. On Oct. 24, 1920, the author writes, "Jack Frost has done its work well by this time and the nuts are easily shaken and easily shelled." A frost by mid-October? We were prancing about in 80 degree heat and the green markets still had local tomatoes!

To paraphrase our anonymous guide:

"How can a fellow gal go nutting where there are no nuts?" Ebay, my friends. Ebay.